The backstory
Bliss balls, Protein Balls, Truffles, whatever you want to call them, they have become a staple in the health food landscape, and these can quickly become a favorite to add to your recipe collection. They are delicious, and at the same time can be ticked off as Keto, Paleo, Grain Free, Sugar Free, Low Carb and egg free. My husband ate plenty of these while on his gut healing diet, and certainly helped a great deal to satisfy sugar cravings that were difficult to battle. They have a slightly savory flavour and are not too sweet. The desert lime adds a nice earthy citrus tone and combines very nicely with the ginger, but doesn't have to be used if its not on hand.
About the ingredients
Cinnamon myrtle: The cinnamon myrtle is found in the tropical rainforests of Queensland and New South Wales. Cinnamon myrtle is from a small tree whose leaves have a spicy, cinnamon-like fragrance. Both Indigenous Australians and early settlers used its leaves for cooking and for medicinal purposes, and the tree's wood for tools. This native spice has a subtle, spicy, cinnamon-like flavour.
Lemon myrtle: probably one of the most versatile and easy-to-use native herb commercially available at the moment, as its essentially "lemon in a leaf". Its slightly more herby than using traditional lemon, but has been found to have more citral (what gives the lemon flavour) than any other plant in the world, so its unmistakably lemon. This is also a great antimicrobial and antifungal, and can help against the spoilage of food, as well as being a strong antioxidant substance. The leaves can be dried and used whole, or ground, or can be used fresh to infuse in to liquids during cooking. An absolute must-have for the backyard herb garden.
Desert Lime: Desert lime is also known as the native cumquat. Its extremely high in folate, calcium, vitamin C and E, and leutin. Its found in southern QLD, western NSW and in the Flinders Ranges in SA. Early settlers made jam, tarts, jellies and preserves from the fruit. Although it has a distinct citrus flavour, it has an earthy depth and can marry well with other flavours as its not overwhelming in its powdered form. Because of its citrus qualities, it has antibacterial and antimicrobial qualities.
Anise Seed Myrtle: only the leaves of the anise myrtle tree are used, and can be in the form of essential oil or ground leaves. It has an earthy aroma of aniseed / liquorice and menthol with some sweetness, and is slightly cooling on the palate. It has often been used in teas, drinks, syrups, glazes, cakes, biscuits, dressings, sauces and ice-creams. It has antioxidant and anti bacterial properties and has been helpful in the treatment of cholera.
Reference (https://anfab.org.au/, agrifigures.com.au)
Ingredients
100g almond Meal
100g macadamias, ground
3 tablespoons coconut flour or hemp seed meal
90g coconut butter (warmed so its runny)
Juice and rind of 1/2 lemon
1 1/2 tablespoons desert lime powder (optional)
1 teaspoon ground ginger
1 teaspoon lemon myrtle
1 teaspoon cinnamon myrtle
1/2 teaspoon anise seed myrtle
1 cup toasted sesame seeds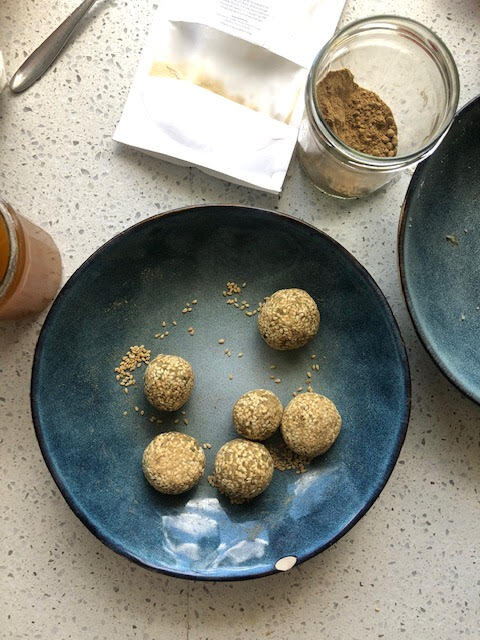 Steps and Method
Combine the almond, macadamia and coconut flour with the desert lime, ginger, lemon myrtle, cinnamon myrtle and anise seed myrtle in a food processor or mixing bowl.
Add the lemon juice and rind, honey and warmed coconut butter and process or mix briefly so it looks like a damp crumb.
Take a tablespoon of mixture and roll the mixture into a ball. If it feels too damp or oily, you may want to add another tablespoon or two of coconut flour.
Roll the balls into the toasted sesame seeds and place in an airtight container in the fridge. They will store better refrigerated, as the coconut butter will set firm. They can be stored in the fridge for up to 4 weeks.