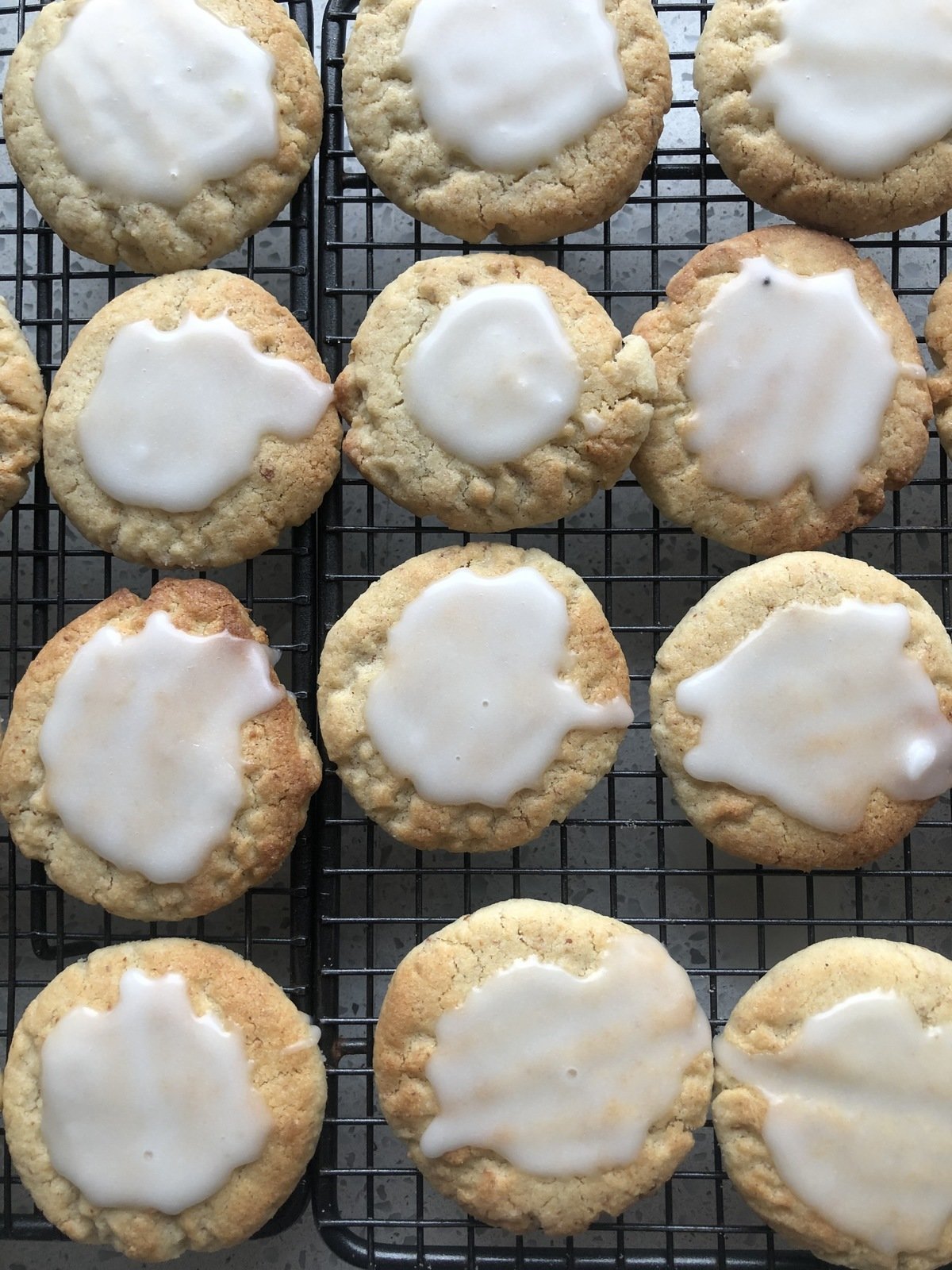 Lockdown has brought with it a desire for nostaligia, for what's safe and comforting. For me, this meant that I have shamelessly been ambling my way through an ancient German recipe book, and working out which ones should become permanent fixtures on our baking repertoire. This book had come from my mum, its pages yellow and its cover contacted for protection, with an array of torn and folded Women's Weekly recipes jammed into its inside covers. Baking was almost an every day activity for my mother, and I was usually by her side. So of course, I went straight to the baking section of this book to discover undiscovered treasures of pleasure.
And so I discovered these lemon almond shortbreads by accident. In the first instance, it might have been a "fail", because what I saw in the mixing bowl was different to what I had pictured in my head. Had I not followed the steps properly? Did I overmix the dough? Yet, these were so inviting and comforting that none of that mattered. Funnily enough, my mother had circled this recipe in the book, suggesting she had used that recipe before and had liked it. Sadly, I don't remember ever having eaten such cookies amongst the many others, which meant I had nothing to compare my own product with. So it was up to me and my family to decide. Do they stay or go? Its likely that these will stay on the permanent fixture in our household, because they all got eaten.
Recipe Ingredients: makes about 40 pieces
This recipe makes a soft shortbread rather than a crunchy or firm shortbread.
250g Butter at room temperature
200g Caster Sugar
2 Eggs at room temperature
150g Almond Meal
2 Teaspoons Vanilla essence
375g Flour
1 Teaspoon Baking Powder
Zest of one Lemon
Method:
Beat the butter and sugar together until its creamy and light.
Add the eggs one by one until its all integrated together.
Add all remaining ingredients and beat/mix slowly until all the ingredients are included and integrated. This should make a crumbly dough. Turn over on a floured benchtop to gently bring the dough together, feeling soft and smooth.
Roll the dough into small balls and flatten on a tray lined with baking paper. Bake in the oven at 160 degrees Celsius until golden brown on the top.
If you wish, ice the cookies with a simple icing of lemon juice and icing sugar while the cookies are still warm.